⭐️⭐️⭐️⭐️⭐️
"It's so much fun and genious that when you solve one of the puzzles you feel like Sherlock Holmes 😂❤️"
⭐️⭐️⭐️⭐️⭐️
"Amazing! Solved it together with my husband in one sitting! Definitely can recommend it!"
Our Puzzle Magazines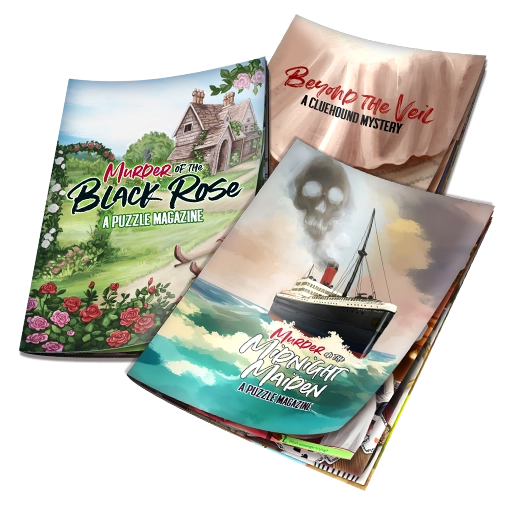 Bundle Offer -25%
Buy all three magazines for 485 kr
Cluehound Mysteries
We create captivating puzzle magazines that immerse you in cozy murder mysteries. Dive into gripping tales by solving puzzles, riddles, and ciphers—a portable Escape Room experience.
Magazine Highlights:
13-15 engaging challenges, riddles and ciphers of varying difficulty
Thrilling murder mystery with beautiful illustrations
2-4 hours of mystery solving
Help when needed with hints and solutions
Perfect for:
All ages 12+
Quality time with friends or solo adventures
Fans of mysteries, escape rooms, whodunits, and puzzles
A unique gift!
Make it special:
A unique gift for someone who loves cozy mysteries.
About us
We are Cluehound, a small Finnish publisher operating under the private company Ad Artis Oy. We blend our passion for escape rooms and whodunits into an easily accessible format. Enjoy the thrill our magazines provide!